Gallery: Tempel 1 (2004-2005)
Observation made by Rolf Stuber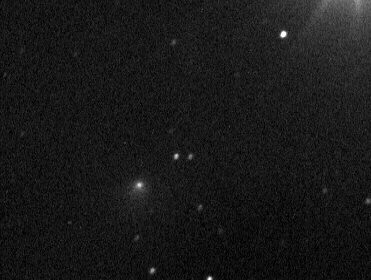 Fig 1:

Image Parameter
Details
Comments:
North is up. The glare at the upper right corner is due to Delta Virginis.
Image Date/Time:
2005-05-31/21:00 UT
Observing Site:
Location: Observatory Stuttgart-Hoffeld (#153)
48°44'17" N, 9°10'29" E
Stuttgart, Germany
Stuttgart, Baden-Wuerttemberg, Germany
Weather:
Clear
Telescope:
Meade 10

Camera:
ST-6
Film:
n/a
Exposure:
2x30 sec
Filters:
none
Table 1: Data about image.