Gallery: Tempel 1 (2004-2005)
Observation made by Toni Scarmato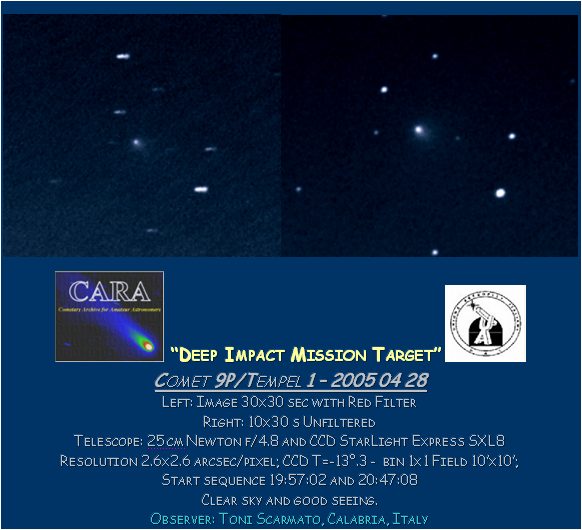 Fig 1:

Image Parameter
Details
Comments:
Comet visible in 8 cm refractor show a large coma about 3' and a little central condensation.
Total visual magnitude estimated 10.5 for 3' of coma.
AFρ with R filter is constant for aperture from 5000 to 25000 km.
R magnitude 10.7 for 2'.1 of coma.
Image Date/Time:
2005-04-28/20:47:08
Observing Site:
Toni Scarmato's Observatory
San Costantino di Briatico, Vibo Valentia (VV), Calabria, Italy
Weather:
Clear Sky and good seeing
Telescope:
25 cm Reflector f/4.8 Newton

Camera:
StarLight Express SXL8
Exposure:
30x30 and 10x30 s
Filters:
R Cousins
Table 1: Data about image.