Gallery: Tempel 1 (2004-2005)
Observation made by Toni Scarmato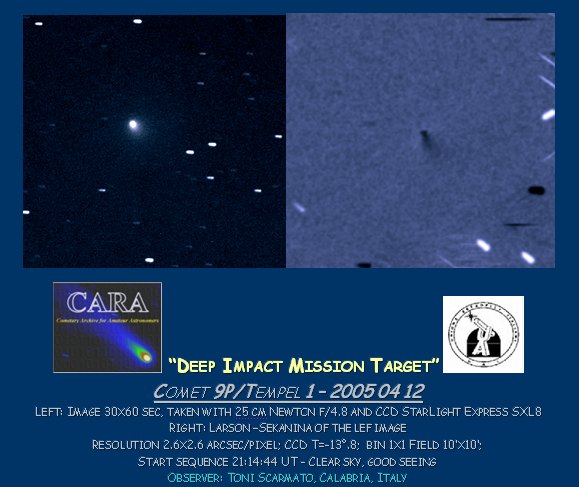 Fig 1:

Image Parameter
Details
Comments:
LEFT: 30X60 s, Taken with 25cm NEWTON F/4.8 and CCD STARLIGHT EXPRESS SXL8
RIGHT: LARSON.SEKANINA OF THE LEFT IMAGE;
RESOLUTION 2.6X2.6 ARCSEC/PIXEL; CCD T=-13°.8; BIN 1X1 FIELD 10.X10.;
START SEQUENCE 21:14:44 UT - CLEAR SKY, GOOD SEEING.
Image Date/Time:
2005-04-12/21:14:44 UT
Observing Site:
Toni Scarmato's Observatory
San Costantino di Briatico, Vibo Valentia (VV), Calabria, Italy
Weather:
Good seeing and clear sky
Telescope:
25 cm reflector f/4.8 Newton

Camera:
StarLight Express SXL8
Exposure:
30x60 s
Filters:
None
Table 1: Data about image.